Martin McHugh, CEO at Compound Semiconductor Applications (CSA) Catapult, outlines how clusters of compound semiconductor excellence will level up our communities and drive UK economic growth.  
When Britain led the Industrial Revolution in the 18th century, it did so through clusters of specialist industries across the country. 
Manchester and its surrounding areas became the epicentre of the world's cotton trade. Across the Pennines, Leeds was made famous for its wool production whilst Sheffield became the city of steel. 
The invention of the steam engine transformed the coal mining industries in South Wales and, through new modes of transport, connected our industries to the rest of the world. 
The collective strength of these pockets turned Britain into an industrial superpower and changed the face of its economy forever. 
Fast forward to today and the UK has set its sights on becoming a superpower once again, this time in science. 
The role of compound semiconductors 
Central to this vision will be the exploitation of compound semiconductors—a technology that will underpin the next-generation of advances across industries in which the UK excels, from aerospace, telecoms and defence to electric vehicles and renewable energy. 
Furthermore, compound semiconductors will drive forward emerging technologies where the UK shows significant promise, such as quantum computing and AI. 
As one of the world's largest compound semiconductor markets, the UK is home to world-leading academic expertise and businesses at the forefront of compound semiconductor technology right across the supply chain.  
The UK's National Semiconductor Strategy describes the country as having 'enormous strength' in compound semiconductors and identified them as a key area if we are to realise the vision of becoming a science superpower. 
Our job at the Compound Semiconductor Applications (CSA) Catapult is to help the UK along this journey, bringing academia and industry together to forge new supply chains and develop and commercialise the next generation of compound semiconductor products and technologies. 
As a result of the 180 collaborations we have made since 2018, we've had a significant impact by helping to leverage over £177m of direct investment and creating or safeguarding more than 5000 jobs in the UK. 
From our Innovation Centre in Newport, South Wales we are part of the world's first compound semiconductor cluster—CSconnected—that has already supported 2,615 jobs and £303m in Gross Value Added. 
Now that the UK Government has set out a clear vision of how it wants to grow our semiconductor industry, it is the perfect opportunity for us to expand our activities and align ourselves more closely with clusters across the country.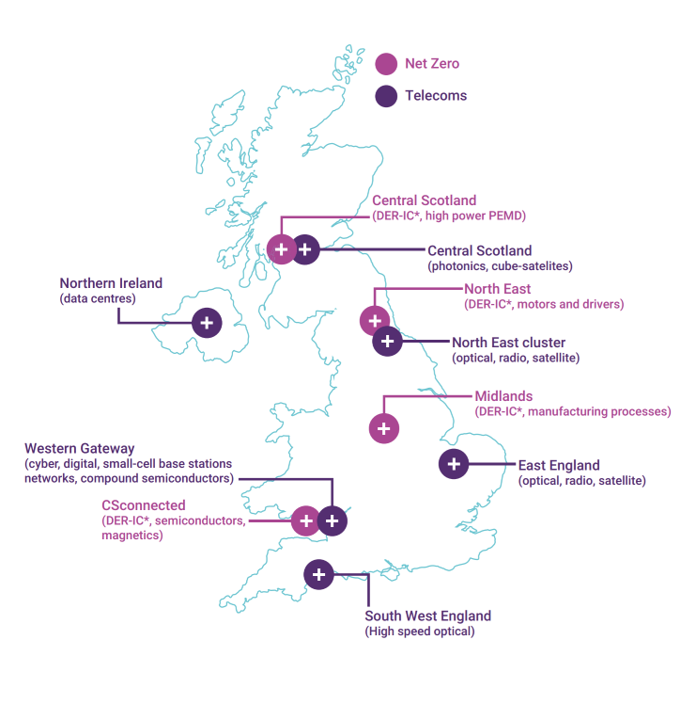 Supporting UK clusters 
In Autumn this year we will be opening a Future Telecoms Hub in the Bristol & Bath Science Park that will place us at the heart of the UK's telecoms innovation ecosystem. 
The Future Telecoms Hub will also strengthen our existing links with colleagues in the Western Gateway—the UK's first pan-regional partnership that brings together local leaders from two countries. 
From this base we will use compound semiconductors to improve the energy efficiency and security of telecoms hardware—factors which have become critically important in developing future networks that are robust and resilient and are less impactful on the environmental. 
We are also establishing a presence in the North East where, together with colleagues at the Satellite Applications Catapult, we will bring benefits to companies working in telecoms, satellites communications and defence. 
Here we will work closely with the North East Advanced Material Electronics (NEAME) cluster to help deliver the social and economic goals it has set out to achieve. 
Finally, we will also establish a presence in Scotland at the University of Strathclyde's Technology Innovation Centre in Glasgow, where we will offer improved design and optimisation capabilities in power electronics and packaging for high power industries such as energy, aerospace, marine and rail.   
Industry 4.0 
In each of these regions we will continue to develop supply chains, help businesses bring their technologies to market faster, and help drive a skills agenda that equips the next generation of scientists and engineers with the tools they need to enter the industry. 
In doing so, we will help level up communities, drive economic growth, and help establish technologies that will have a profound effect on our lives. 
Clusters are a major contributor to economic growth and the source of well-paid jobs. They also provide networks, connections, investment and talent that are very difficult to replicate elsewhere or in isolation. 
Clusters have been integral to shaping the Britain we live in today and will become even more important as we navigate the so-called Fourth Industrial Revolution and the widespread adoption of advanced technology.  
The UK's clusters of compound semiconductor expertise will help lead this revolution, with CSA Catapult at the very heart of them.